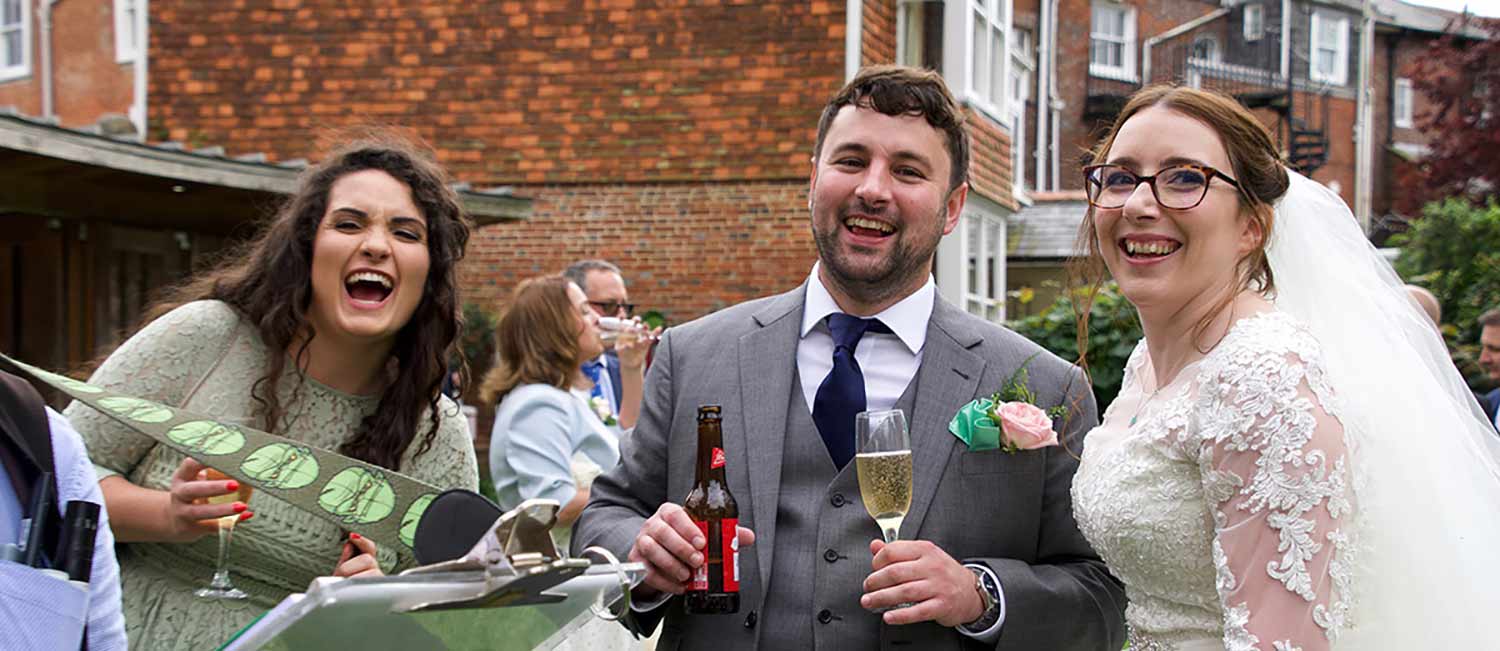 Wedding Caricature Artist
Looking for something completely different and unique for your wedding? Why not hire a caricature artist to charm your wedding guests with' on the spot' caricature cartoons. Weddings are by far my favourite celebrations to cartoon at as it fits in really well throughout the day. It is a natural 'Ice Breaker and raises hoots of laughter, particularly during any wedding lulls.
I can cater for you throughout your special day, and you can hire me for to entertain during the day, or alternatively for your wedding reception. Of course, if you like I can be there for the whole event!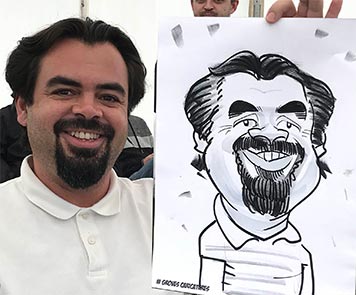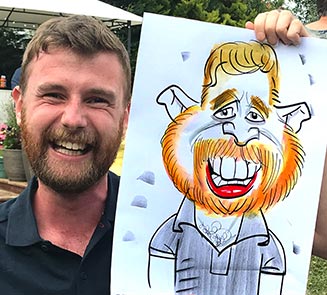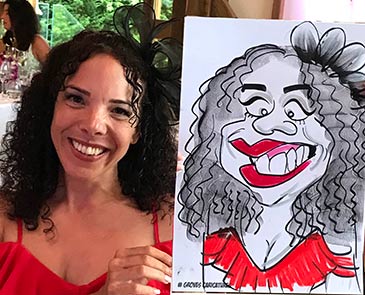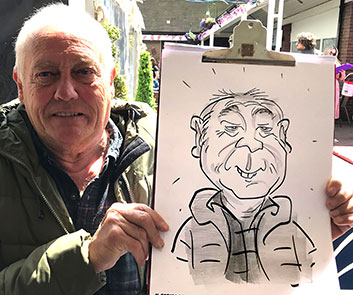 Hiring a caricature artist for your wedding day
There is minimal set up time so therefore I can hit the ground running as soon as I arrive. As a walkabout caricaturist I can mix and mingle at the drinks reception, which is a good time to draw those not involved in the immediate family photos and it has the desired effect of getting everyone chatting.
I can also carry on drawing over the mealtime which is a perfect time to capture guests on the top table. I'd either stand to the side or take a chair and move my way along as I drawn each person.
For the evening reception I sometimes set up a few chairs, and anchor myself to an area, building up a crowd. Alternatively, I  table hop around and continue with walkabout cartoons. I am very versatile and will know what will work best on the day.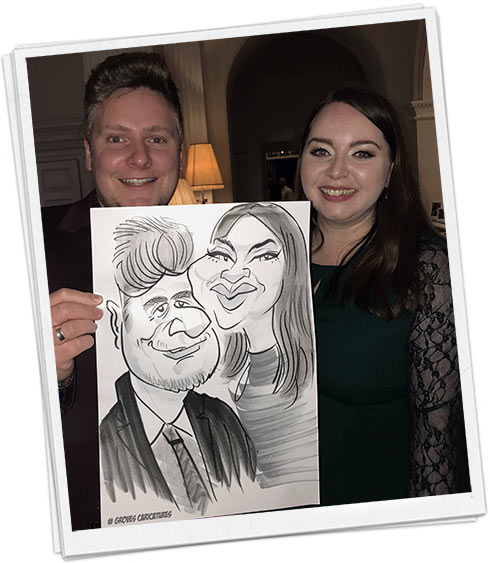 Thank you so much for drawing at our wedding on Saturday. We've had so many compliments on how much fun people had and everyone loved their art. i would highly recommend you in the future!
Rachel Brady-Hooper


Absolutely brilliant, we booked in advance for our wedding because we had heard great things and didn't want to miss out on having David at our wedding. Everyone really enjoyed the experience and David even stayed later so that he could fit in the last few people.
Kelly Sallis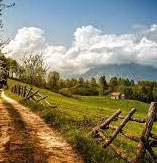 David really was the icing on our cake at our wedding. All of the guests warmed to him instantly as he was so approachable and accommodating. A very clever artist who captured our guests in a fun and happy way. 5 stars and 10/10
Linda Mulvey


Having caricatures done at our wedding was so much fun! David is so talented and our guests really enjoyed watching the drawings come to life. Was so lovely that our friends and family got to take home a souvenir of the day!
Max Stocker


So pleased we had David at our wedding last year, he was absolutely fabulous! Approachable, fun, talented and it made our wedding even more memorable. Thoroughly recommend.
Erica Gower


I booked David for my daughter's wedding. I was not disappointed. Apart from being absolutely charming, he produced fun caricatures and was popular with everyone. I would highly recommend him.
Shelia Haines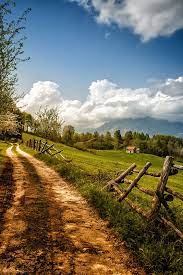 David did a brilliant job at our wedding, he kept all of our guests entertained and happy and the drawings he produced were brilliant. Would definitely recommend.
Kate Steer


Absolutely brilliant! David came to our wedding reception and everyone loved his drawings, created a great atmosphere for the evening, would defenitely recommend
Emma Veasey


David attended our wedding reception and conducted his magic...all our guests loved his artistry....you are awesome at what you do David..and very professional .
Carl Douglas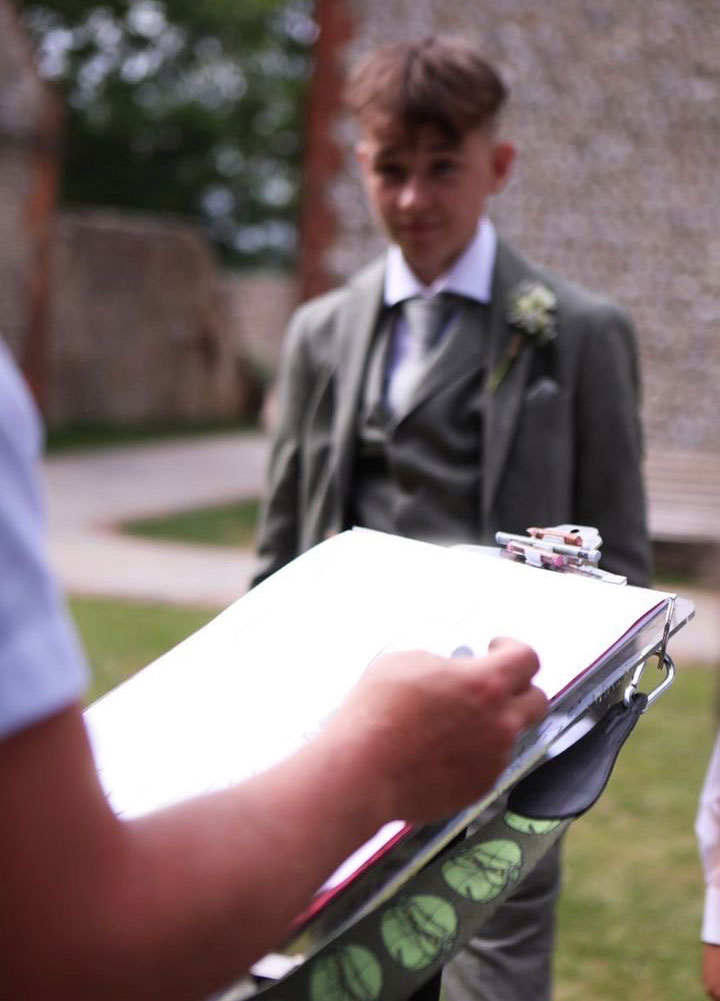 I draw between 12-15 guests an hour on A3 
I tend to draw a mixture of head and shoulders and my standard silly bodies and while your guests have a keepsake and memento of the occasion it doesn't stop there.
The process is great entertainment for onlookers to watch me draw, added by watching the anticipation and puzzlement of the person being drawn, which creates a great buzz and an exciting atmosphere.

It is always great to capture a caricature of the happy wedding couple as a momento of their special day.
To help you decide when is best in the day to book I have highlighted three sessions that I can recommend. Please read on to find out more.
Wedding Caricature Videos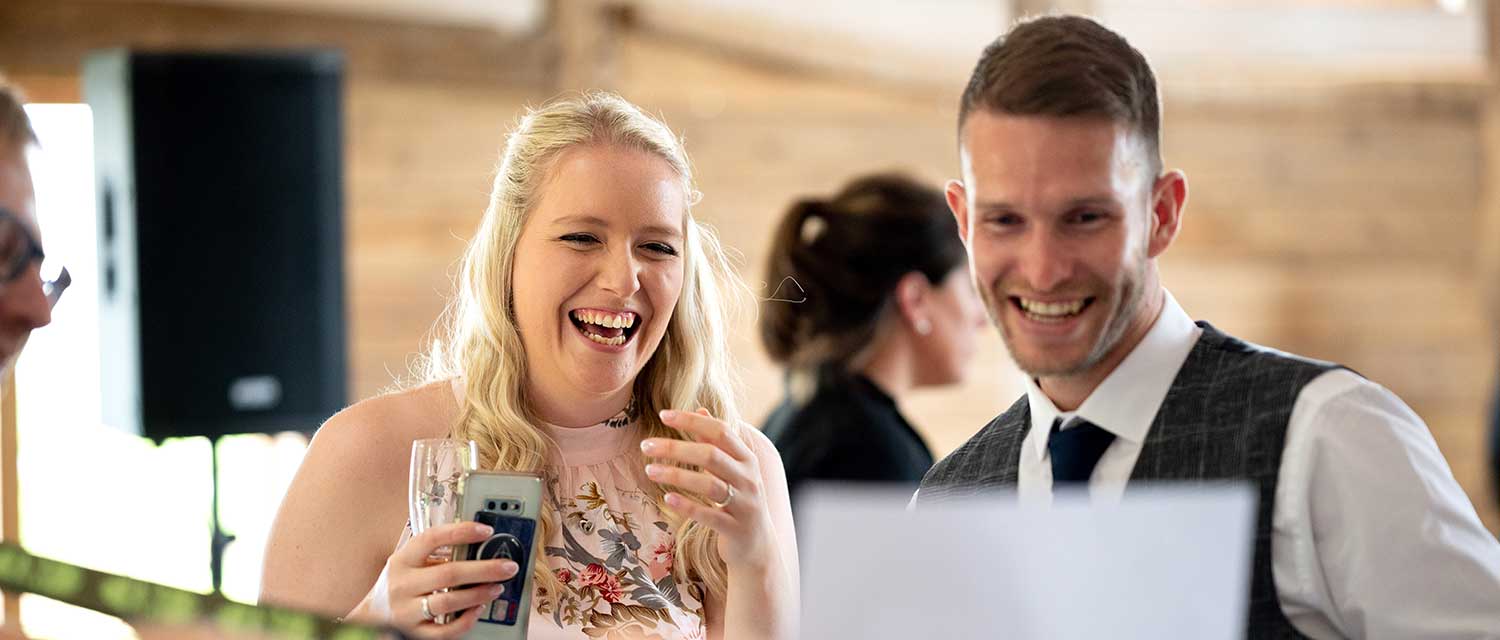 1 – After the Wedding Ceremony
This is straight after the ceremony and into the pre drinks. It's a good time for me to mingle and draw whilst photos are being taken and also during the drinks reception. This can then proceed into and during the meal time with walkabout caricatures. I ought to add that no guests have to hold a define pose and can blissfully continue eating and chatting. I will do a few caricatures on each table to spread the entertainment around the room. This period is an excellent time for me to capture the wedding couple, and other
important wedding party member, i.e., the bridesmaids, ushers and parents. I either stand at the side or take a chair and make my way drawing along the top table. If speeches are at the end of the meal then that is often a good natural ending. If speeches are before the meal then I can press the pause button or very often I'll continue drawing at a distant and hand the caricature to those guests after the speeches have finished.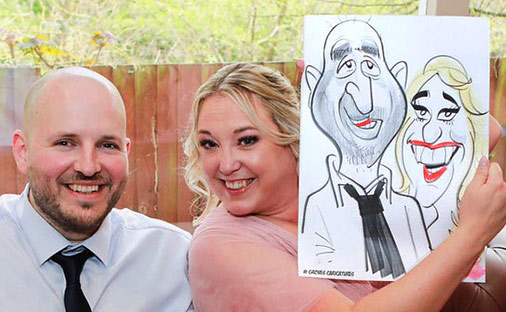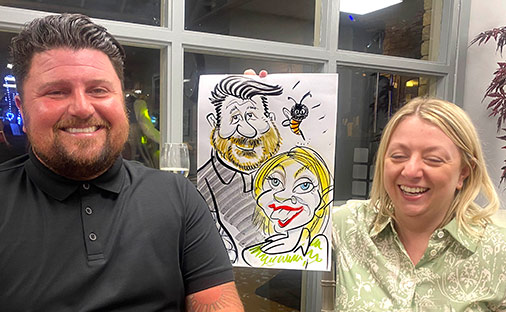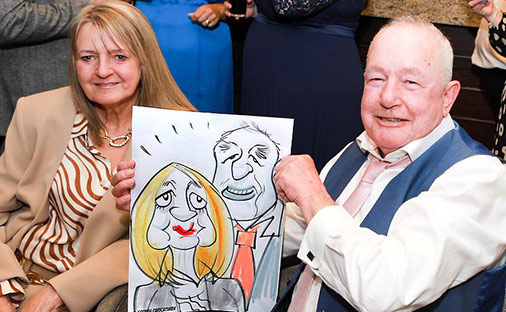 2 – The Evening Wedding Reception
The evening session is more straightforward, as guests start to let their hair down and waistcoats become unbuttoned. I'll be ready to start after the speeches. Sometimes this can be whilst the venue is being prepared for the evening celebrations and additional guests start to arrive. I can either table hop around the tables that guests are sitting around and/or continue walking
about and drawing or setting up in one place and often a bit of all three. I can stay to however late you want me. Within 3 hours I'll able to do over 40 caricatures, so there will be ample opportunity for those who want to be drawn. It is a great wedding entertainment and one your guests won't forget, particularly as they will be taking home their own caricature from the day.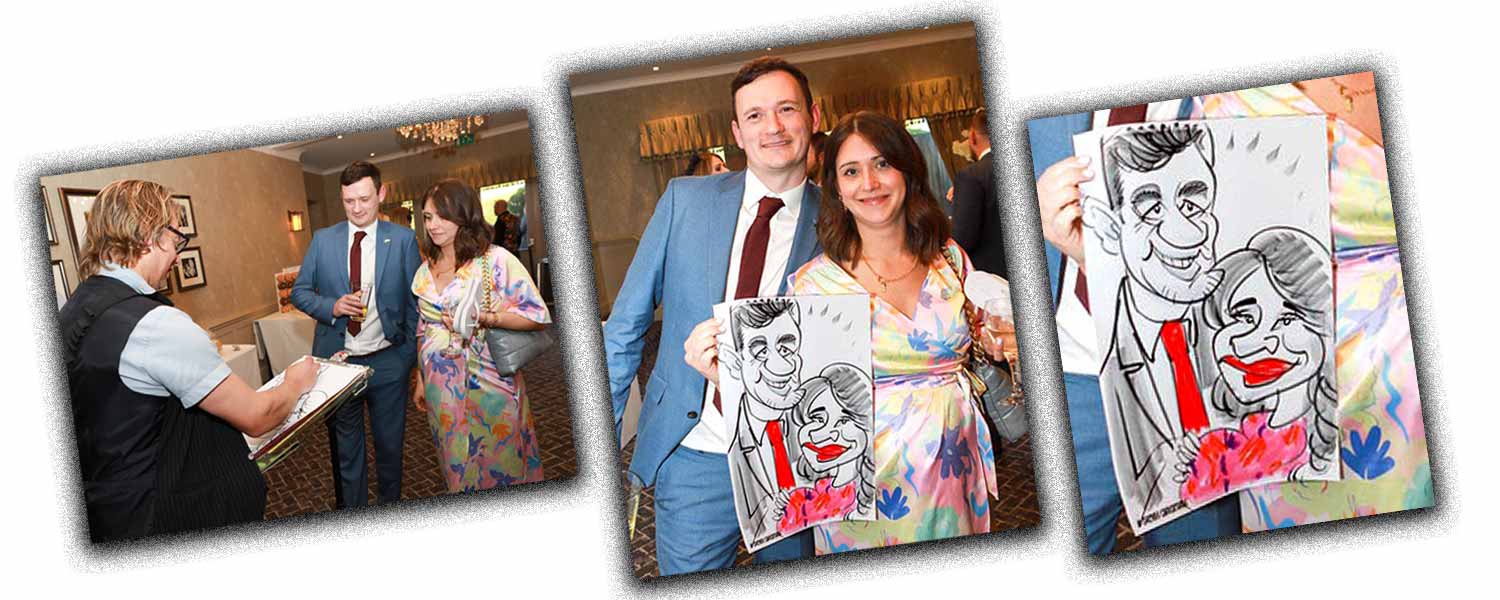 3 – The Wedding Breakfast
The final option is to hire me to entertain at your wedding breakfast. At this point, most of your guests will be feeling rather sorry for themselves after an evening of indulgence!
What better way to lift their spirits than a hand sketched caricature showing them at their worst! Some people really love this as an option to close their special day.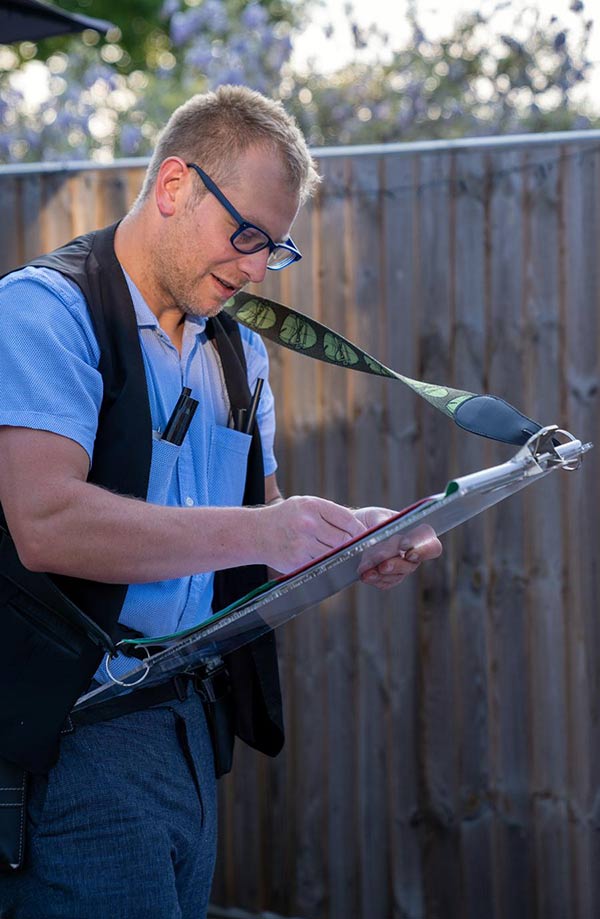 How much does it cost to hire me for your wedding?
There are a number of factors involved, including travel and the amount of time you would like me to attend your event. 
If you are interesting in hiring me for your wedding (or as a gift) simply fill in your details below. If you could include your wedding location, and when you would like me to attend. It would also be great if you could let me know number of guests your are expecting.
I will then email you a quotation and confirm my availability for your special day.  Of course, if you would like to chat over the phone don't hesitate to call me on 07876 247315.
Also available for wedding anniversary parties
If you are celebrating your wedding anniversary then I am the perfect compliment to your party.  I will entertain your guests for hours, drawing creative cartoon sketches for them to take home as a keepsafe.
Let me know the date, time and venue below and I will get back to your with my availability and quote.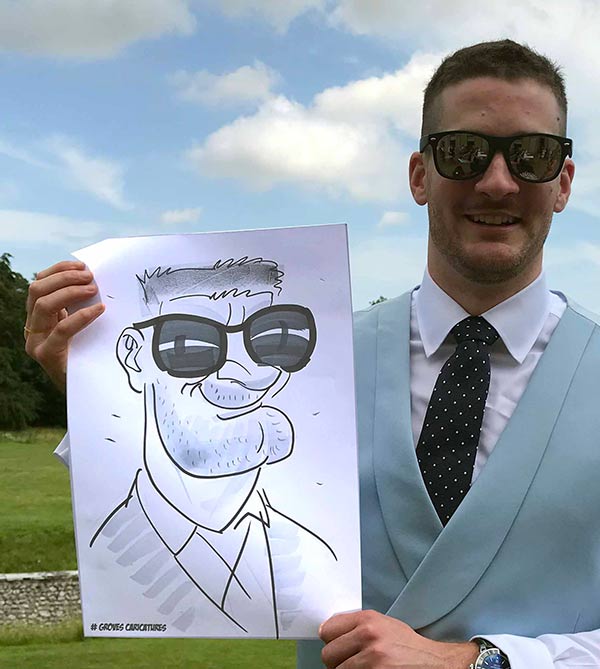 Make an enquiry
For avalibility and prices please drop me a message below. My quotation vary a little depending on travel involved. I will add some price options in my reply. Sessions can be anything from 2,3 or 4 hours. I guarantee great pictures and great fun!