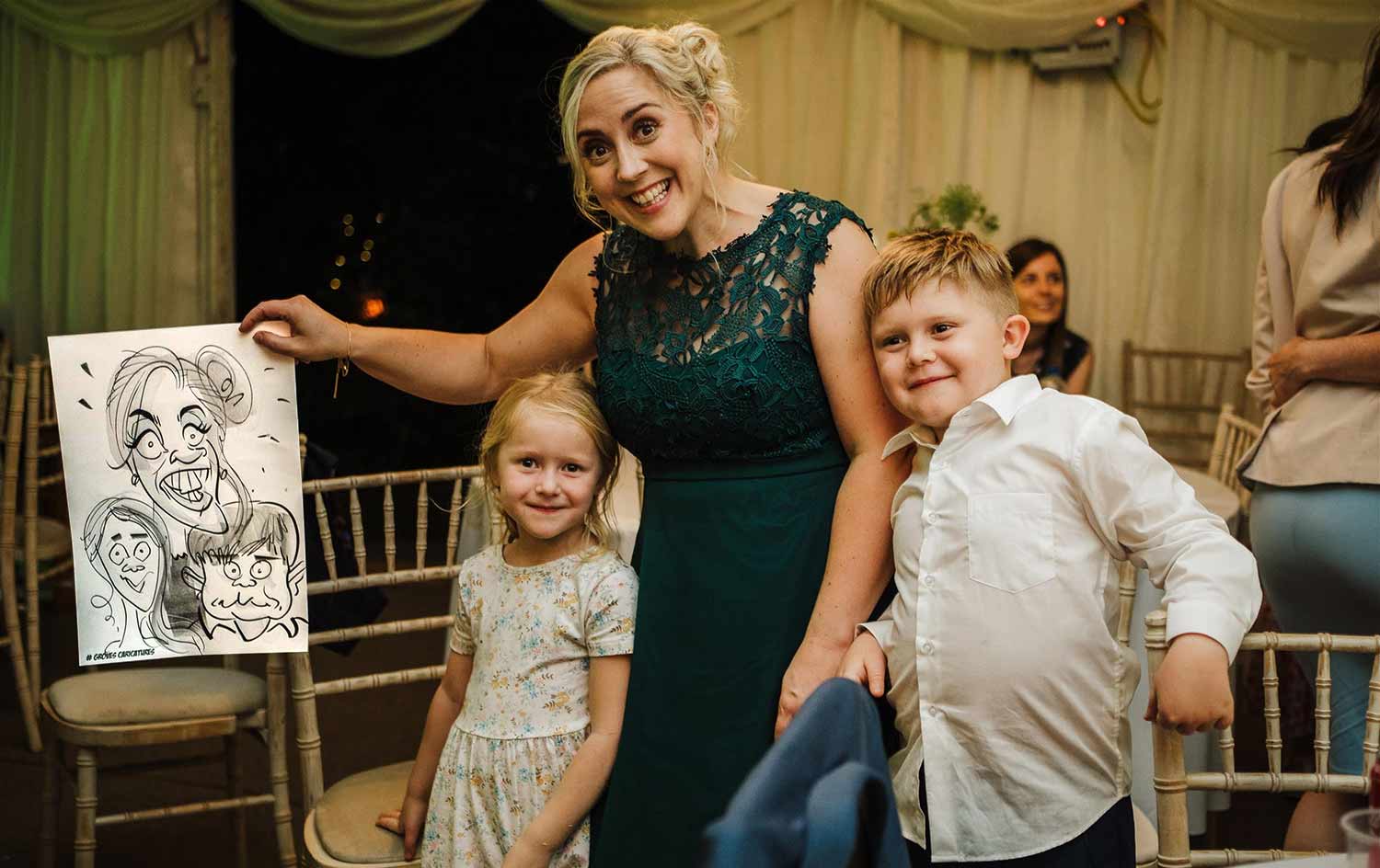 Frequently Asked Questions
There are some regular questions that are asked by clients when bookings and inquiring for an event and I thought it useful therefore to have a this Frequently asked Questions as a helpful guide.
How fast can you draw?
It's possible to get a great likeness in a few stokes, however most people like their caricature with a little more detail and draw a caricature every 4-5 minutes. That's 11-15 an hour depending on the circumstances and how well behaved guests are. Caricatures are on A3 for greater impact.
Do you move around or stay in one place?
I can mix and mingle or be situated in one place. For example at weddings I am able to do table hopping and fit into gaps around the tables or quite often in the evening reception I can pull up a couple of chairs and position myself somewhere appropriate. I am very flexible and will work hard to make it work for your event. At corporate events and award ceremonies quite often is it more practical for me to stand up and draw and be a walkabout caricaturist.
How many caricatures can you fit on a page?
I can draw people on their own, and I often like to use the opportunity of single caricatures to make the bodies more comical. I can draw couples and friends together, and even small groups of three.
What is your average performance times?
The usual is 3 hours, but anywhere between 2 – 3.5 hours is still usual. I can work longer at conferences and exhibitions
Will you draw everyone?
I will draw as many as I can in the time allowed. However, it is an entertainment for onlookers to watch others being drawn and is about the buzz it can create.
Can I do extra time?
Absolutely. If I do not have another prior engagement or a place to be then that's fine. Prices are negotiated on the day or before.
Are the drawings free or do you charge per caricature?
All drawings are completely free. You simply pay for my time. Guests should never have to pay for live entertainment.
How much do you charge for your services?
It's best to email me your date and location of your event for me to give you a more accurate quote. I often do more than one event in a day, and might logistically be nearby. I also give a discount to week day events. I feel my quotes are reasonable and competitive, so please just email for a quote and to check for availability.
How is payment handled?
As well as filling in an online booking form, I ask for a deposit of £50.00 to hold and secure the date unless otherwise arranged. Once the deposit is deposited you will receive a receipt and invoice, and the remaining amount can be paid anytime from the day you book until the day.
Have you offended anyone?
Only intentionally! Nah – In general I try and make the caricatures flattering. I don't wish to upset anyone. However, every now and again, I can't resist making it a more extreme exaggeration.
Do you need to provide anything?
No nothing at all, I'm self contained. The only thing you do need to consider is the lighting in your venue, as having adequate lighting makes a big difference. The most important thing is some fun-loving subjects.
Are you chatty?
I love noting more better than a good banter with your guests and using my drawing skills for laughter and fun.
What geographical area do you cover?
Anywhere in the South East and beyond. I have pens and will travel.
I anticipate loads more Questions and just let me know