Caricaturist to hire in Kent
Wedding and Corporate Cartoonist in Kent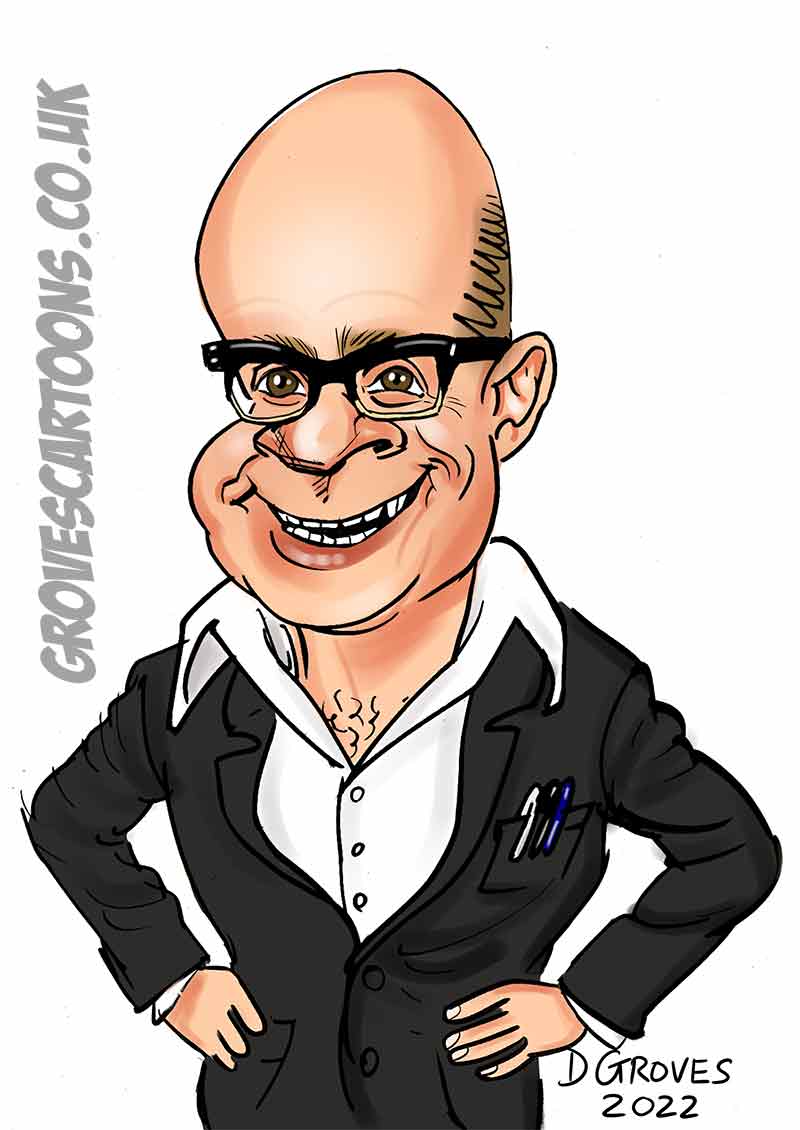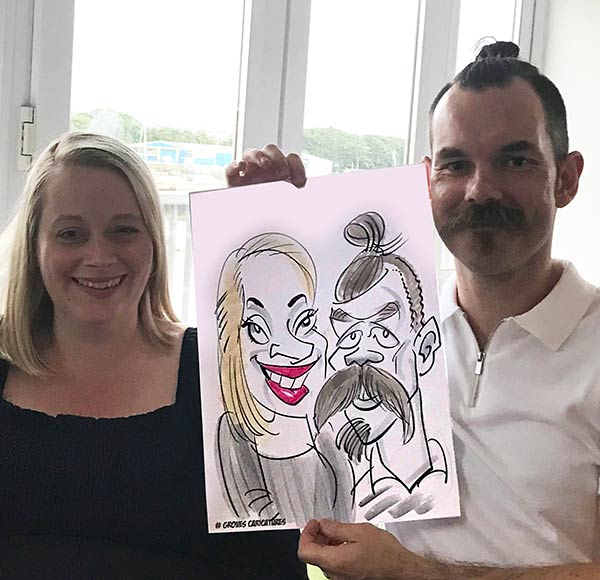 Fab, Fast and Fun Caricatures in Kent. From table hopping at Weddings, Walkabout Artist at Award Ceremonies to a Event Cartoonist at a 50th birthday blast and loads more. He'll humour your guests, and capture convincing funny faces in minutes. Conversation piece! Groves Caricatures (best known as Dave) is available for hire at weddings, parties and events in the Kent area. A quick caricature of the TV presenter and Comedian Harry Hill! The Glasses and Collar make a great accessory to the caricature but would Harry Hill be the same person without his large collar and spectacles. Harry Hill has said in interviews before that it's his comedy persona! Harry Hill is actually his showbiz name and that in real life he's more reserved and quiet. Not one for fame and going out with famous people, but rather watching TV, watching cinema and generally mucking around.
Mucking about
Perhaps that's why he was so fantastic with 'Harry Hill's TV Burps' that was broadcasted between 2001-2012, and was consistently funny. He managed to poke fun at every TV programme going with silly spoof scenes and silly sketches. Poor old Cheryl Fergison as Eastenders Heather Trott got it bad! But was hilarious! Then there was the epic fight sketches used in very episode on what he liked best, and I can't forget the ventriloquist puppet of Alan Sugar when the Apprentice series was on. Harry Hill grew up in Kent and lives in Whitstable, consequently a really great place to visit especially when the oyster festival is on. I've been and the year I went Prince Charles also visited and had lots of crowds around. Harry Hill made a reference to this on TV Burps once 'Big Up The Medway Posse'.
Brainy
A little unknown fact is that Harry Hill first trained and started a career as a Neuro-surgeon – wow, before his big break-through in 1992 at the Best Newcomer Award at the Edinburgh Fringe Festival. I do like being a Doctor, and I do like be a comedian, but what is better? There is only one way to find out, – 'FIIIGHHHT'. Of course it was comedy and Harry Hill has been making us laugh for the last two decades or more since.
Places of interest are Sevenoaks, Edenbridge, Tonbridge, Maidstone, Dartford, Gravesend, Gillingham, Sittingbourne, Faversham, Whitstable, Canterbury, Margate. Then end south,  Ashford, as well as Dover, Cranbrook, New Romney to name a few places and throughout Kent. Some venue I've recently attended to draw caricatures at in Kent include Whitstable Castle. The interesting Lympne Castle, Westhanger Castle in Folkestone and the Old Kent Barn in Swingfield. Some Wedding venue's visited for caricature entertainment in 2015-16 include the lovely St Augustines Priory, in Bilsington near Ashford. Along with Cooling Castle in Rochester. In addition Abbots Barton Hotel in Canterbury and Leeds Castle near Maidstone. There are countless charming villages in and throughout Kent.
Garden of England
One gem of a place is the Beautiful Whitstable. Caricature Entertaining at weddings, parties and events in Herne Bay, Faversham, Swalecliffe, Chestfield, also close by in Margate, Ramsgate and Broadstairs and throughout Kent. A few venues recently attended to draw caricatures at are Conniston Hotel in Sittingbourne. Cooling Castle in Rochester, Winters Barn in Canterbury, and The Marine Hotel in Tankerton. A new place I visited recently for caricature entertainment was the beautiful East Quay Venue, East Quay, Whitstable right on the seafront. Also inside Shepherd and Neame's Brewery in Faversham Kent, drawing caricatures and sitting on a beer barrel whilst sipping spit fire!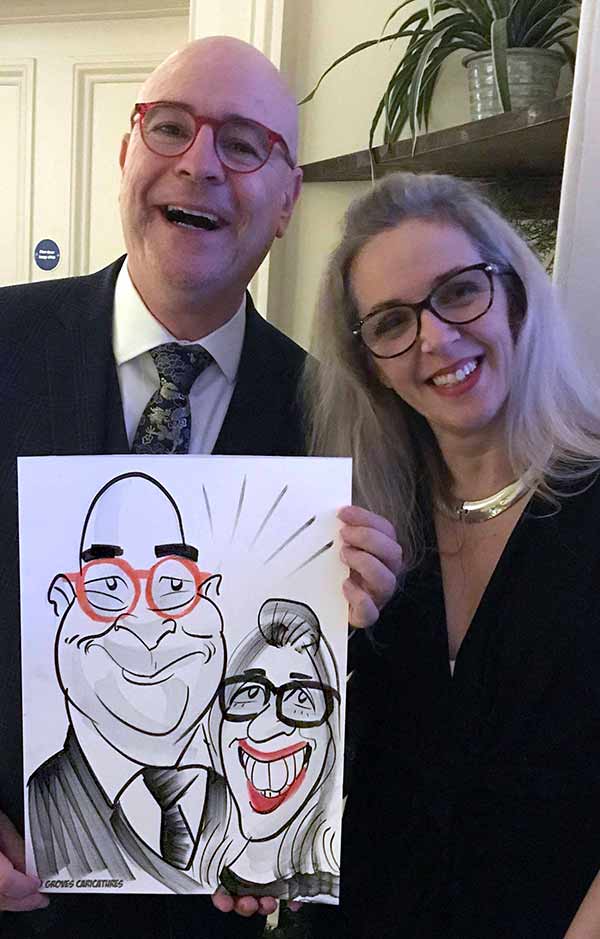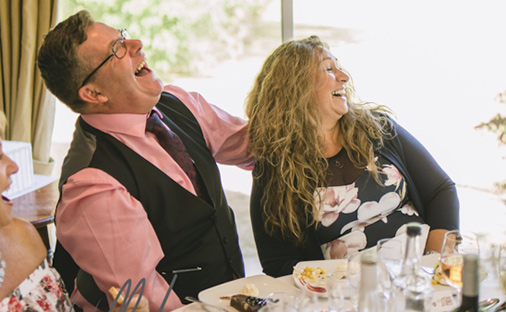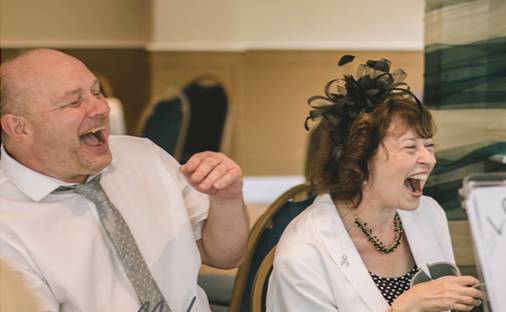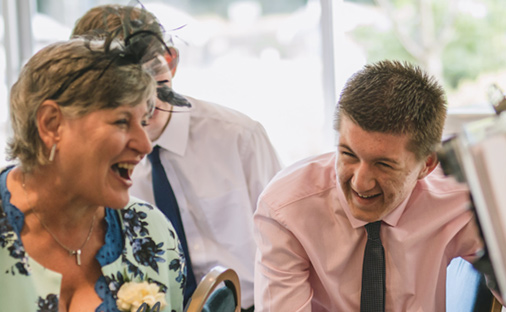 Make an enquiry
For avalibility and prices please drop me a message below. My quotation vary a little depending on travel involved. I will add some price options in my reply. Sessions can be anything from 2,3 or 4 hours. I guarantee great pictures and great fun!